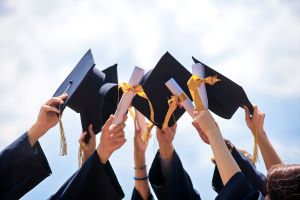 Dear Class of 2020,
Hopefully you have heard many heartfelt messages about your unique class, the Class of 2020. You are in the history books! Your graduating year from high school will be a great "story to be told" to your kids, when that time arrives. Your graduating year will be one of the top googled topics in history! We are proud of you! And I am speaking for thousands of people.
You have persevered and conquered COVID-19 setbacks! It was cool to play some very influential people on my morning show the week of May, 25th 2020. Inspiring words of going forth from Oprah, Michelle Obama, Denzel Washington, Ellen and J.K. Rowling. It is not over yet! If you have a chance check out the YouTube channel on Saturday, June 6th for commencement messages for the Class of 2020. The link below will give you an idea of whats to come for you this weekend.
And by the way enjoy the graduation moment coming up June 8-10 at Gainesville Raceway and cross that finish line! Go Get Life, Class of 2020 and know you are respected and loved.
https://deadline.com/2020/05/barack-obama-michelle-obama-to-headline-youtubes-dear-class-of-2020-virtual-commencement-event-1202926308/
Sincerely,
Livin' Large Larry
The Morning Show
106.9 I Am Country